Water Level Indicator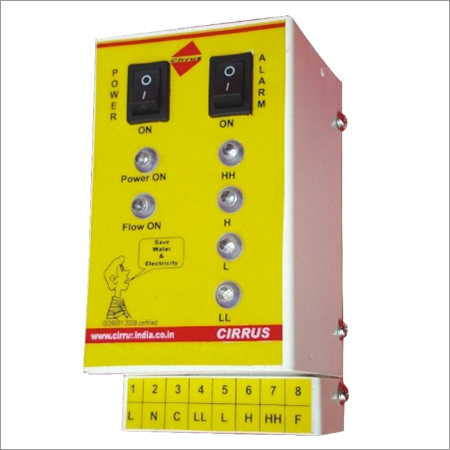 Water Level Indicator
Product Code : 25
Brand Name : CIRRUS ENGINEERING & SERVICES PVT. LTD.
Relying on our tremendous expertise in this domain, we offer the best grade collection of Water Level Indicator. This indicator can be availed by our global clients at market leading prices according to their specific requirements. Provided indicator is widely used for detecting the water level in overhead tank at varied residential, industrial and commercial places. By utilizing quality-approved components, this Water Level Indicator is manufactured by our adroit professionals at our advanced production unit.

Key Points:

Trouble free working
Accurate measurement

Enhanced durability
Excellent sensitivity
Standard Features
Usable with water tank of any size/type.
Usable with water sump of any size/type.
Four Level Indications HH, H, L, LL.
Optional flow ON indication.
Loud alarm when the water reaches high - high level.
12 volts sensing technique with level sensing probes.
Tested for 5 years and Available with 6 months warranty.
Applications
This product can be used in Residential/Commercial/ Institutional build with water tank and/or sump.
Working Principle
Five level sensors for water level indication C, LL, L, H, HH in the tank/sump at the required levels. 12 V sensing voltage is sent through 5 or 6-core telephone cable to the sensors from the system. Whenever the water reaches the sensor probe, the concerned LED is lit ON.
When the water reaches the high level probe, the LED is lit ON and alarm is also activated. The alarm can be switched of with Switch provided. Low cost 5/ 6 - core telephone cable connects the level sensors with the system (Cable not a part of the package. To be arranged by the buyer).
Notes
Choose the location for installation that is always under observation e.g., Hall, kitchen etc.,
The switch board with one 5A socket of 5pin or 2pin needs to be within 5 feet spacing from the system location
The system installation point shall be between 5ft to 6ft from the ground level for easy access to the system (specifically for switching ON/OFF the buzzer)
Use good quality 5/6-core telephone cable to interconnect the system with the level sensing probes.
he probes shall be firmly fixed and hung to the tank/sump so that the water levels are not disturbed so easily
Advantages
Save Electricity & water
Prevent Overflow of water, save water bill
Prevent extra running of pump save electricity bill
Install one more tank to save electricity.
Prevent Ceiling of roof.
Address:
509, DDA-I, D.C, Janakpuri, New Delhi:-110058.
CIRRUS ENGINEERING & SERVICES PVT. LTD.
A-79, 2nd Floor, Vishal Market, Tagore Garden Extn, New Delhi - 110027, India
Phone :08037401813
Mr Manish Khurana (Marketing Manager)
Mobile :08037401813